ARE YOU MEETING YOUR LEGAL REQUIREMENTS?:
F-gas laws regulated by EC517/2014 are refrigerant gases contained within refrigeration and air conditioning systems.
The EU has introduced new laws to control the use of Fluorinated greenhouse gases and changes to these laws are ongoing to minimise the effect on the environment. F gases can be installed in many common workplaces within refrigeration and air conditioning systems and it is paramount that you manage your legal obligations correctly keeping up to date records of your equipment. These laws place responsibility on the operators to ensure that systems within certain thresholds of refrigerants are leak tested at specific intervals to ensure they are leak free.
Due to shortage of some of the components based within the F-gases the price of refrigerants is increasing greatly, therefore not only is it law abiding to have your equipment checked and maintained regularly, it will also save you money in the long run.
HOW CAN TEMP TECHNICAL HELP?
We will conduct a full site survey listing all equipment on site and which F-gases are contained within each system.
Identify banned refrigerants or advise on any upcoming phase downs of specific gases.
Supply unit labels identifying F-gas quantities, GWP (Global warming potential), and CO2 equivalent calculations.
Provide written records to prove that your equipment has been checked and maintained by a certified company.
Recommend intervals for leak testing and maintaining equipment based on EU guidelines for systems above certain thresholds.
TEMP TECHNICAL LTD are f-gas certified by REFCOM and you can carry out a company check here:
http://www.refcom.org.uk/f-gas/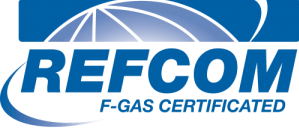 ---